I Didn't Mean To Disrespect You – Osman Bukari Tells Ronaldo
Osman Bukari, the Ghanaian forward, stole the show as the Black Stars of Ghana lost three goals to two to the national team of Portugal, celebrating his second goal with Cristiano Ronaldo's iconic Suii celebration.
A lot of people talked about the celebration, with some even thinking that the fact that he reduced the goal deficit to just one should not call for celebration, but he should have moved the ball to the center of the park so that play could commence as soon as possible.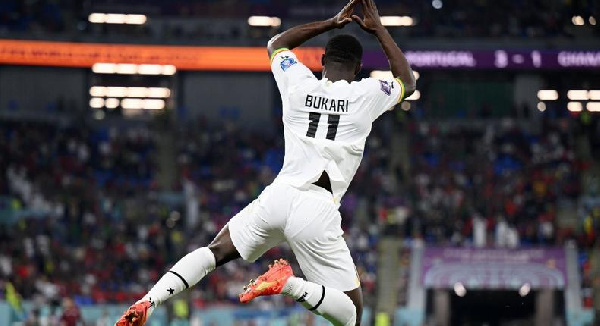 Others chastised Osman Bukari for disrespecting a football legend like Ronaldo as he jubilates with his own trademark celebration while scoring against Portugal, but the Red Star Belgrade player took to Twitter to apologize to Cristian Ronaldo for such a great disrespect, revealing that he was not taught that.
Taking to Twitter, he wrote:
I have noticed my celebration today has generated comments claiming I was disrespectful towards Ronaldo This is incorrect. I was overcome by the emotion of the moment of scoring for my country on my World Cup debut leading to my celebration. My upbringing doesn't permit me to be disrespectful to elders let alone one of my idols. Thanks for your support and we focus on our next game!
to be disrespectful to elders let alone one of my idols.

Thanks for your support and we focus on our next game!🇬🇭🇬🇭

— Osman Bukari (@OsmanBukari9) November 24, 2022
Source: AfricaOwn.com